The Official Community and Training Program for Visionaries and Integrators™
Dive into what it takes to be more effective in your role as an Integrator and how to enhance your Visionary/Integrator duo with the EOS Rocket Fuel University programs.
The One Essential Combination to Build a Great Business.
Everyone knows who Walt Disney is. Did you know he wouldn't be as well known without the help of his brother Roy?
You see, every great entrepreneurial business has a common element that has created Rocket Fuel for them. It's the relationship between a Visionary and an Integrator. The Visionary is usually the founding entrepreneur, the big-idea person, typically called the founder or CEO. The Integrator is the unsung hero. They are the person that faithfully executes the business plan. They are typically called the president, chief of staff, or COO.
These two people create a relationship that will take your business to the next level. Rocket Fuel University helps Visionaries and Integrators reach their full potential as members of this dynamic duo.
Visionary/Integrator relationship frustrations are common and destructive in entrepreneurial organizations.
Visionaries: My Integrator just doesn't seem to get it (if you are fortunate enough to have one). They can't get things done fast enough, can't see what I'm saying, and we never seem to be on the same page.
Integrator: My Visionary creates whiplash throughout the organization and is impossible to control. They change their mind constantly and undermine my leadership.
Solo Leader: I'm all on my own. I'm not sure if I'm the Visionary or the Integrator. I can't seem to get anything done or really innovate within my organization.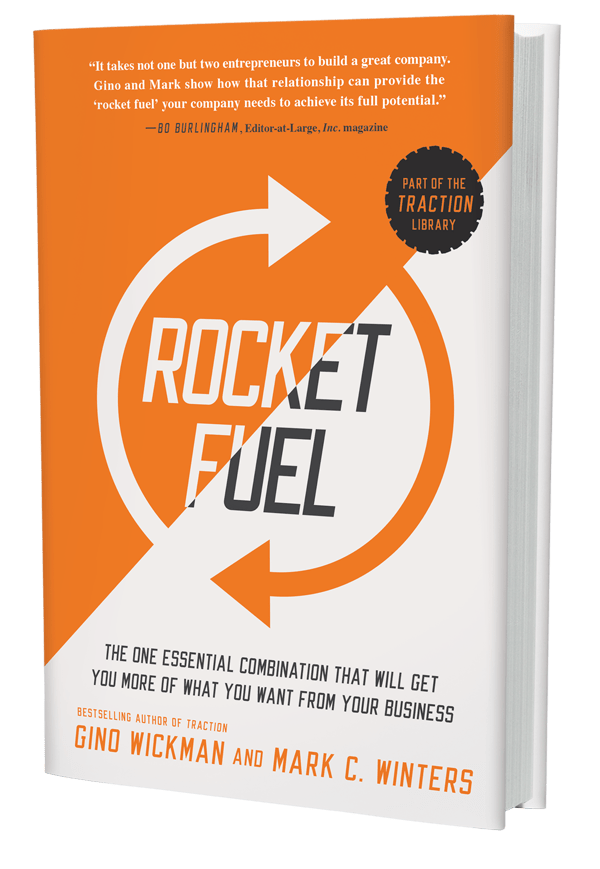 One essential relationship powers successful entrepreneurial companies:
Rocket Fuel details the integral roles of the Visionary and Integrator™ and explains how an effective relationship between the two can thrive. When these two people come together to share their natural talents and innate skill sets, they have the power to reach new heights for virtually any company or organization.
Stop the frustration of not growing your business and career as fast as you always dreamed you would.
Learn how to maximize your role in your V/I dynamic duo relationship. Joining the free EOS Rocket Fuel University Community is as simple as…
Confirm Your Role
If you aren't sure if you are a Visionary or Integrator start by taking our Crystallizer Assessment to find out.
Join the Community
Enroll in our free Rocket Fuel Community where you can watch the Rocket Fuel 101 Video series to deepen your understanding of Rocket Fuel core concepts.
Start Mastering Your Skills
As a member of the Rocket Fuel Community, you'll also have access to connect with the other members in our Community Message Boards and on our Monthly IDS Calls for Visionaries, Integrators, and V/I Duos™
Leadership Teams Using Rocket Fuel
Thank you, Rocket Fuel! This brought clarity that I am an Integrator! I've never been able to describe it this well.
Rocket Fuel is gold! It allowed me to discover my inclination (and hidden superpower) as an Integrator. It was like a whole new world opened up before me.
This program helped me further define the leadership role I should have based on the kind of person I am - Visionary!
It was a real eye-opener. Your program helped me identify my strengths and weaknesses and how to take action.
The expertise Mark C. Winters brings is fantastic. It helped me clarify certain areas in which Integrators operate. I would highly recommend this to anyone who is a Visionary or Integrator.
I am a Visionary! This was the how-to manual for words and passions I've been trying to get out.
Join the Community
In this FREE membership, you'll get access to:

Live IDS's led by EOS Implementers

Visionary, Integrator, and V/I Duo Communities

Rocket Fuel 101 Training Course
Take Our Rocket Fuel Assessments
Assessments for Visionaries and Integrators to Crystallize, Connect, and Maximize Their V/I Relationship
CRYSTALLIZER ASSESSMENT
Discover your unique leadership abilities and decide if you are a Visionary, Integrator, or neither.
ROCKET FUEL POWER INDEX
Measure the alignment of your Visionary/Integrator relationship so you can close any gaps and harness the power of the unique combination.
Not sure where to get started?
Book a 15 minute call with one of our Rocket Fuel Specialists to learn more about the many ways Rocket Fuel University can help your organization, Schedule a call.